Theo Paphitis has a business empire that spans retail, property and finance. Best known for his role as an investor on BBC's Dragons' Den, he spoke at the Wimbledon BookFest – held on Wimbledon Common – about his life in retail and the future of the high street. A few members of the team attended, keen to hear his thoughts on retailing. Here are some of the highlights: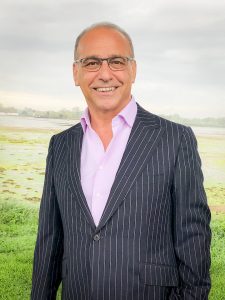 Theo is currently chairman of three major retail chains, Robert Dyas, Boux Avenue and Ryman. Combined they total 300 stores throughout the UK employing more than 4,000 staff.
He started planning for Christmas in February of this year, and his sentiment is that if you are only starting to plan now, then you are doomed for failure. 'Retail is a tough business and you have to be prepared, it takes a lot out of you and no two days are the same', that is what he likes about it – the people and excitement of it all.
He feels it is getting more and more difficult to keep the consumer happy, they are promiscuous, meaning that they shop around on different platforms to find what they want. Your offer therefore needs to be compelling.
He moved his headquarters to SW19 and started with just six people; there are now about 170 employees at HQ. He loves Wimbledon and takes his dog, Gladys, for a walk in the Common daily during his lunch hour, which helps him to keep fit.
The High Street and Brexit
He feels the government is not helping enough when it comes to keeping bricks and mortar stores afloat and he stated that the recent increase in business rates has been a blow to many retailers. The government needs to make revenue, this he understands, but they cannot continue to take it from a cake that is shrinking and not taxing an ever growing cake – Ecommerce / digital.  Seven years ago Theo proposed a small 2% tax on online goods, which would mean companies like Amazon and eBay would be able to contribute more to society, but nobody in government is keen to take this on, he believes, as it would make them unpopular and therefore unelectable. On Brexit he was critical about the initial need for a Referendum when there clearly was no plan and still isn't. This is not helping business as he is unable to plan for the future. 
Wimbledon
Theo has two stores in Wimbledon: Ryman and Robert Dyas. He doesn't pop in too often as he doesn't want to upset the store managers (!), but he definitely sees them more often than some of his other stores. When he visits, he notices that new shops are opening up in Wimbledon all the time – this fascinates him about retail. The resilience of shopkeepers and where one fails, another one will try something completely different. He believes the most important aspect of any business is people – 'surround yourself with good people and treat them well,' he stated. 
Ups and downs
Theo is a resilient retailer who has had many highs and lows in his career. He has an incredible work ethic but is also a family man. He is savvy and has certainly learnt from his mistakes and won't get involved in the stock market again after the failure of Splash. It was difficult to come back from that and he suffered some depression. He has surrounded himself with good people who help him make tough decisions daily. He invests in his employees and will soon have their annual conference for about 500 employees. 
"The harder you work, the luckier you get"

Theo Paphitis
For more information on the fantastic Wimbledon BookFest, please visit: https://www.wimbledonbookfest.org/