Black Friday is no longer just a day for the retail giants to offer tempting discounts to bargain hungry consumers, it is now something retailers of all sizes (some reluctantly) are getting involved in.
As you probably know, Black Friday originates from America – it's always the day after Thanksgiving when US retailers have drastically cut prices with one-day sales. And in recent years the day has been steadily growing in Britain, with most of the country's largest retail brands offering promotions both in-store and online.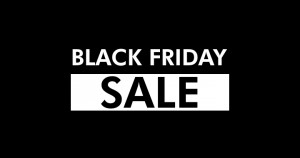 Looking to this year, there are now only 28 days to go until Black Friday, which is on November 23. So how can small to medium retailers ensure that they get the most from this day and receive their share of the projected £1bn spend?
There's plenty of advice for small businesses doing the rounds online and here are some of the best tips we've come across:
Identify end of line items that you can put into a clearance event on Black Friday. Use the heightened customer interest to get rid of items and get cash tied up in old stock back into your business
Talk to suppliers – they might have stock that they want to shift. If that is the case perhaps they'll join up with you to part-fund promotions
You can prepare your retail software in advance, particularly around the first tip so you are not panicking on the day. Ben Johnston, Account Manager at Retail IT, advises retailers using their Cegid Business Retail systems to make full use of the price list module. "This facility enables users to choose their sale items in advance and price accordingly," he explains. "For example, you can choose a range of goods to offer a 50% discount on which will only apply on Black Friday. The rest of the time they are automatically available for the normal price."
Smaller retailers can also learn from the problems experienced by the big boys. Often retailers' websites crash on Black Friday due to unprecedented demand. So prepare your site for increased traffic. If your site is not already mobile compatible, ensure it is as, according to IBM, well over half of last seasons' traffic came from mobile devices.
We hope you have a successful Black Friday!