With just a few days left until Christmas, we'd like to wish all our customers and suppliers a very Merry Christmas and a Happy New Year! 
It's been an exciting 2015 here and we hope to have an even better 2016. During the last 12 months we've welcomed four new members of staff to the team – in marketing, retail consulting and on the helpdesk – who have all brought new skills and experience to Retail IT.
New clients, new projects at Retail IT in 2015
During 2015 we've started working with a number of new clients, including Rogerson's Fine Footwear, Petersham Nurseries, and Hostem, while extending our services with the AIS group into fashion, linen and homewares. We're also close to announcing deals with well established retail brands in the home and fashion verticals.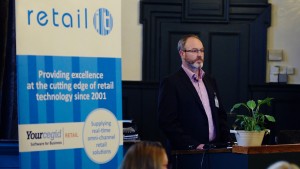 Additionally we've developed relationships with our existing clients by providing them with new bespoke features and services, such as Sage integration, gift card programs and click and collect schemes.
We put on another customer and partner event, where we were humbled by Laetitia Kotsiopoulos' kind words about our partnership, and we were delighted to be joined by our friends from Retail Remedy, who we have enjoyed teaming up with on a project this year.
We've continued to work closely with our suppliers and strategic partners, such as Cegid, Aures and SPC, and we look forward to working with them again next year.
Best wishes,
James Rodger and all the team at Retail IT