On November 9 we held our afternoon event in Covent Garden to discuss omnichannel retailing. Six speakers provided insights and stories about the importance of omnichannel, an area which has undoubtedly changed the face of retailing over the last few years.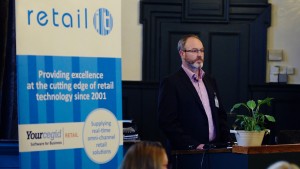 James Rodger, managing director of Retail IT, opened the event by declaring that successful omnichannel retailing is no longer the domain of just the larger retailers.
"Looking at how large retailers operate their Omnichannel offering is a real motivation for me – it is exactly the type of functionality that I want to bring to our customers.
We are able to give independents the features of a larger business so they can offer the likes of click & reserve/collect and loyalty cards to their customers."
Omnichannel retailing central to success
The event's keynote speaker was Clare Rayner, who informed delegates that omnichannel is now central to the success of any growing retail outfit. Clare, well known for championing the success and sustainability of smaller, independent retailers and suppliers to retail, declared:
"It is no longer acceptable to be a single channel retailer. You have to be where your customers are – think about how they shop. Even the more mature customers these days expect an omnichannel experience."
Clare then revealed research shows that customers who are able to shop omnichannel and can customise an experience are worth one and a half times in sales and repeat business value than those that can only shop via one channel.
Moving away from omnichannel slightly, Retail IT's Matthew Carlton gave delegates food for thought for their next marketing activity. This was achieved through showing a selection of case studies from retailers that had boosted footfall (or online traffic) through imaginative use of social media, iBeacon technology or in-store attractions.
Knomi was one such example of an app that can help boutiques drive customers in-store. For fashionistas it's billed as a portal where fashion lovers share their style stories and can discover and shop everything from small upcoming talent, to the biggest names in fashion. Fashion indies are encouraged to join this community by installing a Bluetooth iBeacon and when users of the app are in the vicinity they might receive a push notification suggesting they go check out a certain item.
After a networking break, Laetitia Kotsiopoulos Head of IT at AIS gave a compelling presentation about omnichannel retailing at the Intersport chain network. By next year Intersport expects to be a full omnichannel player in the retail market, using their CBR system as a hub for all the data they needs to present a compelling omnichannel offer.
The final full presentation was delivered by Paul Thomas, a luxury retail consultant at Retail Remedy. Paul encouraged retailers to ensure their omnichannel offering is based around customer experience, customer need and customer wants. From there he advised retailers to ask 'what do you want your customers to see, feel, touch, do and hear?' when they experience your brand. Once you have those answers, then the technology and IT specialists in your teams can build the infrastructure to facilitate that.
Attendees ranged from start-ups to multi-store independents, with many grabbing the chance to ask Clare Rayner a specific question about their business, or to experience the latest EPoS and hardware equipment on display. Coral Turner, of the eponymous Couture label said: "the presentation from Clare Rayner and the one on marketing were very informative. I came away with a list of 'things to do' and things 'to look at'".
The final item on the agenda was a Children in Need raffle, with employees from Farrow & Ball scooping the top prize of an iPad Mini 2!
You can view a video of the day's highlights here: