Last week we looked at the debutants at the upcoming INDX Menswear show (now just over a week away), this week we turn our attention to the international brands which will be showcasing their wares at Cranmore Park on February 1-2.
From the waist down
If you're looking to bolster your store's trousers and jeans offering, then take a look at hattric. The hattric collection includes five pocket styles, flat front/chino trousers, denim jeans, colour safe, colour denim, prints, minimal structures, jog denim, NOS and seasonal stock programme.
AW17 colours such as cosy caramel and ochre tones are complimented and accented by warm shades of red, while wintery grey, deep anthracite and clear blue are a cool contrast to the original beige and natural green. Blue denims continue to be the focus with base colours of indigo.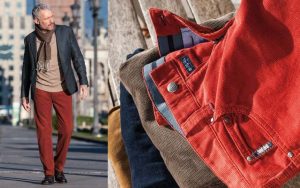 A brand somewhat similar in style is BRÜHL, one of Germany's foremost trouser and jean suppliers. It has earned an enviable reputation for superb quality and detail, allied with a characteristic UK fit, over the 24 years that it has been supplying the UK market.
BRÜHL specialises in using stretch fabrics, many styles utilising a stretch waistband. It has recently launched a new contemporary line called B Bros, which aims to offer the best fit available.
Meyer is one of Europe's leading trouser specialists. Manufactured in Germany, excellent fit and functional details are key reasons why the brand continues to succeed internationally. Every pair of its trousers are made in their own Fairtrade-certified factory, which has been producing these splendid trousers for more than 55 years! The brand offers a comprehensive stock service programme throughout the season.
Stylish Shirts and Casualwear
Does your menswear department need a new range of great fitting and comfortable shirts? Seidensticker produces gorgeous shirts season after season, all of which are 100% cotton. Well known across Europe, its wares often feature beautiful patterns, checks and striped shirts with neat details and trimmed finishes which are fantastic to wear time after time.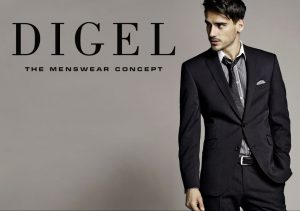 Digel is an international fashion label with innovative vision and a creative spirit. Its collections are aimed at individualists for whom a sense of quality, confidence in style and affordable contemporary clothing for every occasion are essential.
These collections – which include business suits, casual everyday outfits and a range of mix & match suits – are offered in more than 40 countries across more than 3,000 shops.
Tresanti positions itself as being for men who 'stay true to their nature in being just a little vain and a little hot-tempered'. It puts a 'little bit of sin in every piece of clothing' and its collections comprise shirts, ties, scarves, belts, gloves, socks and headwear. The Tresanti range is built around various labels, each with their own unique character. Looks and prices of each label vary, but the focus on quality is never lost.
For the Adventurer at Heart
Inspired by journeys to far-flung lands, camel active creates modern casualwear for men. Jackets, trousers, knitwear, shirts and T-shirts, as well as accessories, shoes and bags make up its collection – all of which are, according to the brand, suitable for both vibrant cities and broad landscapes in faraway destinations.

Launched in 1998 in Germany and inspired by the legendary Denys Finch-Hatton and his African adventures, Fynch Hatton boasts a diverse collection featuring attractive colours that are appropriate for any occasion.
Its high quality, superior workmanship and exciting details have helped the brand grow considerably over the past 18 years. Be sure to check out its array of pullovers, shirts, polos, blazers, pants and jackets.
Key this Autumn/Winter 17 for Wrangler are two denim wash stories: stone dyed jeans and the expressive bleach effect of wild wash. Both concepts are revived from the Wrangler archives with original artwork for the tags. And if you're looking beyond their jeans, browse the Kabel logo tees and tops which boast strong graphic expression.
And finally, Redpoint, Canadian outerwear which offers great value without compromising on quality – potentially offering your store(s) a great margin. The hallmarks of this new season's collection are fantastic designs combined with attention to detail, innovative colours and technical fabrics
We hope to see you at Cranmore Park, Solihull at the start of February. Click here to register for this two day INDX Menswear event which also includes free admission, parking, refreshments and lunch. And you can also come and see us and find out a little more about our retail technology services and our work with the likes of Intersport and AIS.