We're pleased to be attending this week's INDX Menswear SS17 at Cranmore Park, where we'll be exhibiting and demonstrating our services to AIS members. Here's a preview and information on some of the labels making their first appearance at the event.
A trio of up-and-coming leisure lifestyle brand we are sure will attract plenty of attention comprises Rupert and Buckley, Brakeburn and Blue Tide – and all have interesting backstories.
Described by The Times newspaper as 'One of the 50 fastest growing clothing brands in the country', Rupert and Buckley, is due to expand considerably in the coming months. Stores and concessions stocking the brand's preppy range are set to open in 11 new cities this year, including Bristol, Cardiff and Exeter. Rupert and Buckley started life in the Canterbury university dormitory of its owner and founder James Buckley Thorpe, who had the idea of creating high quality team socks for his university's rowing team with a vintage 80-needle hand-weaving machine. Soon more items were added and the rest is history!
Born in 2015 and located on the Atlantic coast of North Devon, Blue Tide works on the basis of creativity and responsibility, complimented neatly with a sunny coastal attitude. For every garment it produces, Blue Tide pays maximum attention to fabric selection, fitting and perfect quality. They aim to focus on quality as well as bridging the gap between style and the outdoors.
In a similar vein, Brakeburn have created a brand that represents their way of life.  Their menswear range includes sweaters, polos, gilets, jeans, jackets, hoodies and t-shirts are all complemented by their rich use colour and design. Formed in 2011, in Poole, Brakeburn was created out of a passion for designing great products influenced by its location on the edge of the second largest natural harbour in the world, close to the UK's best surf spots and a short ride away from the Purbeck hills.
Nightwear and Accessories newcomers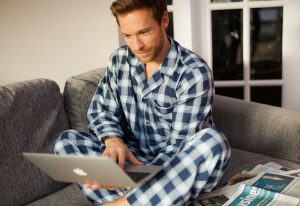 If your store needs a new nightwear range then pay a visit to the Cyberjammies stand. Originally an online pyjama business, hence the cyber prefix, the brand's wares are now found in over 250 stores in the UK, Europe and even further afield in America and Australia.
Launching at the beginning of December pre-Christmas, the brand introduces Freddie and Charlie – in a colour palette of commercial greys and blues. The mix and match pieces offer a balance between a more class PJ and a more contemporary blend of knits and wovens, long and short sleeves, pants and shorts.  Geo prints and checks are the main stay of the ranges with prices starting at  £18.
Accessories brand Troop London is also appearing at INDX Menswear for the first time. The principal aim of the Troop collection is to offer retailers with a very fashionable high quality bags and other travel accessories.  This in turn is expected to harness the good name of its brands and build customer loyalty and repeat business.  Currently, Troop brand has a strong presence in the UK and Ireland, mainland Europe and Saudi Arabia and UAE – maybe after the show they will have a presence in your stored too!
Introducing a new portfolio of European Brands
Baileys & Giordano proudly stands for craft and quality and the family owned business was founded in 1955 by A.H. Verweij in Rotterdam. The company has grown in size and stature over the years and is now a well-known and respected fashion brand.  Today, collections are designed and developed in the headquarters in Amsterdam, while the production takes place in Europe and Asia. Day by day top-quality fabrics and yarns are chosen from the best suppliers across the world.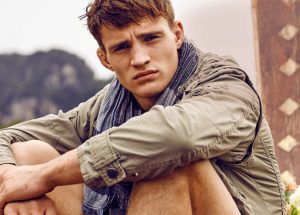 Inspired by journeys to far-flung lands, Camel Active creates modern casual wear which combines natural, high-quality materials with functional elements and fabrics, meeting the demands of modern men and women who thrive on an active lifestyle.  "We are really excited to be at INDX Menswear for the first time" said Jamie Harden, brand manager for Camel Active. "The quality of the Independent Retailers visiting the show is where we feel the brand sits and look forward to meeting them".
Like Camel Active, Eterna also has roots in Germany, and specialises in shirts and blouses.  In 1863 The brothers Hönigsberg founded the company, which is the origin of today's Eterna brand. Their invention of a patented double fabric quickly established Eterna as a fashionable must-have and paved the way for the non-iron shirt and later the non-iron blouse.  One collection on display at the show will be '1863 by Eterna': premium shirts that combine good quality and classic colours with the traditional ranges. Top-quality two-ply features in white, light blue and rosé. Fishbone structures give high quality through their sheen and weave and premium shirts impress with their fabrics, presenting an elegantly timeless look.
Lerros, the German casualwear brand well known internationally with over 600 retail outlets, will also be making its first appearance at INDX Menswear SS17.  It focuses on both males and females aged 25-50 who are interested in modern, elegant and casual clothes at affordable prices.
Some new sole mates
Two iconic labels debuting footwear collections at the show are Ben Sherman and Farah. 33 Joints, one of the leading fashion footwear distribution companies in the UK and Europe, will be on hand to inform visitors about these collections. Farah's collection of essential men's shoes will give every outfit the edge their feet have been missing, whether that's smart, casual or everyday. Ben Sherman offers classic brogues and loafers, in leather or suede to complete that fashionable look!
This piece also appeared on the INDX blog. You can find out more about the INDX Menswear show and other forthcoming shows on its website, and you can register here.