We love working with our friends at AIS and we're delighted to be attending the upcoming INDX's shows at Cranmore Park, where we'll be exhibiting and demonstrating our services to AIS members. Here's what attendees at the INDX Menswear SS17 Show (July 27 & 28) can look forward to…..
The Brits are out in force at the INDX Menswear SS17 Show…..
It's been a strange summer so far when it comes to Britain…. The country divided over Brexit, political parties in crisis, a new PM, and the less said about England at the Euros the better… But well done Wales, Andy Murray and who knows how our athletes will fare in Rio…
One thing us Brits can always be proud of is our fashion – be it our rich heritage brands or upcoming contemporary labels. And British designers are out in force at the upcoming INDX Menswear SS17 Show…..Speaking of heritage and tradition, Peter Werth Contemporary Menswear has been part of the British menswear landscape for 40 years and will be exhibiting at the show.  The brand is synonymous with great British design, high quality, contemporary clothing, footwear and accessories.
Another brand as British as fish and chips and wet bank holiday weekends is Ben Sherman, which joins the portfolio of brands within the BMB Group.
From its beginnings on Carnaby Street in the swinging 60's Ben Sherman has sold shirts, sweaters, suits, outerwear, shoes and accessories and is renowned for its fashionable shirts, polo shirts and t-shirt designs which often sport the Royal Air Force roundel or mod target.
A British brand that has been around longer than both of the aforementioned combined is Leicestershire-based HJ Hall, which has been in the sector since 1882 – some 134 years!  Their exciting collections include Protrek, a range of technical walking socks and Generation V, a modern fashion range. Visit their stand for new July launches including Wellington Boot Sock and Workwear Durable Sock together with new Bamboo & Merino Wool Designs.
Boxing clever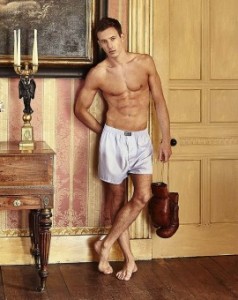 One British brand showcasing its wares at the show has a rich history, despite having only been in business for three years. British Boxers, which create exceptional quality traditional nightwear and underwear, was founded by the great, great, great granddaughter of Jem Mace, a hell-raising Britsh bare-knuckle fighter who became the first boxer to be hailed the world heavyweight champion.  Although Deborah never met Mace, who died penniless in 1910 after gambling away his fortune, she grew up with stories about him including how he fathered at least 14 children with five different women.
Now in its third year the brand is becoming a force in the men's underwear category. "British Boxers is growing all the time with more and more shops coming on board for the product. Recently a first order was sent into Harrods and they are delighted with the sales figures.  Customers are crying out for exceptional quality and traditional craftsmanship" says Deborah.
Classic Coastal Collections 
A great catch at the show will be British brand Crew Clothing, which will launch its new Crew Club collection and wholesale exclusive styles there. Inspired by its coastal roots, the brand has a strong base of core navy pieces and epitomises simple and timeless clothing that embodies British dressing at its finest.
A coastal inspired debut at the show comes from Brakeburn, which started back in 2011, in Poole, England. This clothing and footwear brand was born out of a passion for designing great product influenced by its incredible nearby outdoor surroundings – next to the second largest natural harbour in the world, a stone's throw from some of the UK's best surf spots, and a short ride away from the Purbeck hills.
Other inspired British brands you'll find at the show include Double Two, Gurteen, Peter England, Rupert & Buckley, Skopes, Viyella and Weird Fish. BSA, Norton, The British Bag Company and Tootal Accessories. These heritage brands will undoubtedly be desirable for customers with their new SS17 collections.
This piece first appeared on the INDX blog. You can find out more about the INDX Menswear show and other forthcoming shows on its website, and you can register here.