We have entered into a charity partnership with Fayre & Square, a community shop that provides support and retail training placements to volunteers with learning disabilities, as a stepping stone to paid employment or further volunteering.
As part of our partnership we've donated a state-of-the-art EPoS system, as well as training and ongoing support, to Fayre & Square and the body of volunteers that oversee the running of this Wimbledon retail initiative.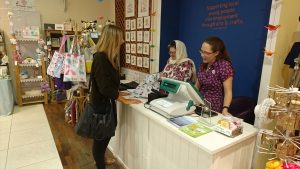 Now in its third successful year, Fayre and Square provides training placements and group sessions to volunteers with a learning disability and those facing other significant barriers to employment. Following their training placements, volunteers use retail and employability skills they have learnt to help them secure future employment or further volunteering opportunities.
Fayre and Square, situated on the Upper Mall in Centre Court Shopping Centre, is run by Merton Voluntary Service Council specialist staff and volunteers and is supported by local designers and traders, who provide their unique handmade products – such as gift items and cards – for learners to sell to the public, as well as giving their time to running Fayre and Square.
Talking about the partnership, our MD James Rodger said: "We were looking for a charity or initiative to partner with that was relevant to retail. Fayre & Square are about five minutes' walk from our offices, so it's great to help a local retail initiative and especially as its one that has already achieved so much in our local community, and looks set to continue doing so. We hope through our support we can help improve the future employment prospects of those with learning difficulties that work in the shop."

Jon Stone Head of Operations at Merton Voluntary Service Council commented: "The donated equipment, training and support from Retail IT enables our volunteers to learn how to use modern retail equipment, this will enable them to be better prepared for their future volunteering or employment in the retail sector. We are pleased to be working in partnership with a local business and look forward to establishing an ongoing relationship with Retail IT."

Marketing Manager Matthew Carlton added:  "As a company we've always liked to do our bit to help good causes. It was all quite standard stuff though, until early this year when we decided to develop an ongoing CSR strategy. The partnership has blossomed over the past few months and we're really enjoying working with them – the people are lovely and their response to us and our services has been great. They also sell some unique products – at reasonable prices – some of  which I've bought and given as gifts to people who've been really taken by them."