Have you heard?
Selected Homme is debuting at the upcoming INDX Menswear Show – held at Cranmore Park, Solihull on July 23-25.
If you're unfamiliar with the Selected brand – it creates fashion rooted in the leading trends, while positioning itself as a strong, authentic brand with a minimalistic expression and a clear focus on quality. Selected consists of two brands: Selected Femme and Selected Homme. Each brand is divided into separate lines, which makes it able to provide fashion for every individual – and for every occasion.
What can you expect?
Take some time over the three-day show to visit the stand and see the brand's five collections….
Homme Look Book
When it is neither coat-weather nor t-shirt-weather but rather something in-between, Selected Homme focus on easing transitional dressing. Think linen outerwear options that you can easily throw on or take off according to conditions; lightweight cotton tees to layer under; and, of course, a varied selection of knitwear and sweats that keeps you warm, but won't stifle and restrict you.
Identity – Classics of Tomorrow
Come spring, all sartorial bets are off: What should a man wear when it's no longer cold, but not yet warm? When dressing for weather that can't seem to make up its mind, the best place to start is with a versatile, comfortable, and lightweight wardrobe. Accordingly Selected Homme's spring 18 collection offers an immaculate selection of cut-to-flatter pieces in relaxed anti-fit shapes and long line proportions that work equally well on rainy and sunny days of spring.
Last season's sportswear-inspired detailing remains a continued and important trend while this season, there's the introduction of a series of subtle athletic details like layered necklines and trims along the cuff.
Opting for pieces made from breathable fabrics, like compact jersey, washed lightweight and high-density cottons, these clothes will keep your customers cool when it's hot – and warm when it's not. The collection also features a string of pieces made from organic cotton fabrics and recycled polyester.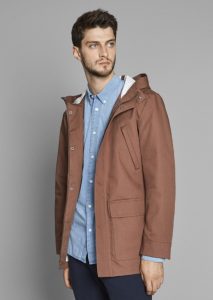 Heritage – a Legacy of Tradition
This collection is designed for those early spring days when (hopefully) consistent warm weather is right around the corner. Thus its lighter outerwear options, tapered separates, and comfortable loose-fit casualwear.
There's a string of signature Heritage casualwear with refined athletic detailing. The collection also features a string of color blocking separates – contrasting vertical and horizontal stripes.
The color palette centers around classic blues, soft sandy shades, a cocoa brown, and a refreshed green that adds a vibrant burst of spring feel to the collection.
Shirting Refresh
The new season brings with it a host of invitations – garden parties, wedding invites, and day-turned-to-night soirees. Any social event is an excuse to crank up the style dial and up the formal fashion ante. Make sure your menswear department can rise to the occasion and take with Selected Homme's spring 18 collection, which includes a varied selection of refreshed formal shirts with detailed floral prints, watercolor brush strokes, and a new fresh take on classic blue shirts made for warm weather and formal affairs.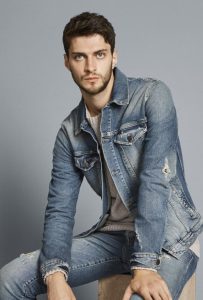 Indigo – Inspired by Jeanswear Archives
When dressing for spring – the most unpredictable of seasons – adaptability is key: combining easily removable layers to weather rain or shine. So Selected Homme offers a collection of iconic denim staples and lightweight separates made for transitional dressing.
The collection features a string of essential denim styles and iconic leather pieces which include a soft suede shirt and jacket.
Is sustainability in fashion?
It certainly is according to Selected Homme, who say:
"We have worked very hard to introduce more sustainable fabrics into the collection – and this season, our outerwear selection, in particular, incorporates a large amount of environmentally friendly materials like BCI cotton and Tencel®."
How can you see the collections?
To attend the INDX Menswear show at Cranmore Park on 23-25 July, visit http://www.indxshow.co.uk/menswear. We'll be in attendance at the show so pop over for a chat about all things EPoS and retail tech – we hope to see you there.