We're proud to be a reseller of the Cegid suite of products and we're especially excited about their latest retail solution for omnichannel retailing, Yourcegid Retail Y2.
The new solution has been developed specifically for retailers looking for heightened levels of service as customers and staff increasingly use tablets and smartphones.
"The consumer has changed. Now more connected, mobile, informed and omnipresent, the traditional methods of commerce and the path that retailers must take have altered," said Sylvain Jauze, Director of International Operations at Cegid. "Yourcegid Retail Y2 was designed with these changes in mind to help retailers manage every aspect of their retail chain, whatever the channel or location."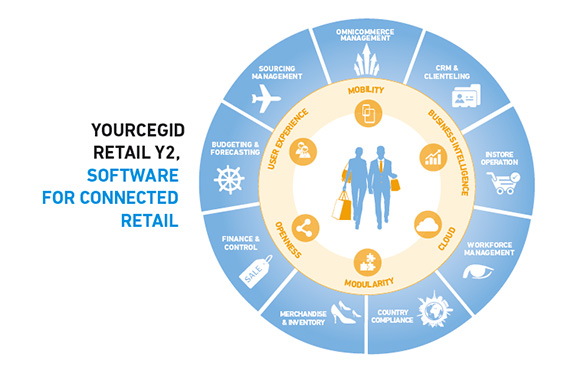 Add-on modules to the integrated Y2 suite include special business intelligence and international applications. Cegid has also developed a new mobile clienteling application for retailers running on Windows 8 Modern UI, in association with Microsoft.
"Customers want more from their stores: a more personalised shopping experience, and better advice from store associates that's consistent across all channels or touch points." explained Jauze.
The Yourcegid Retail Mobile Clienteling application has proved to be popular, allowing staff to check stock availability on tablets, do product demos and organise deliveries, as well as provide advanced reporting and statistics. The clienteling solution also facilitates a new type of relationship between sales associates and consumers, with increased visibility on a customer's shopping journey across web and store.
Cegid's new Yourcegid Retail Y2 product features a refreshed user interface with a more modern and streamlined look and feel. The business intelligence module brings with it a lot more reporting capabilities, with over twenty analytical tools and crucial indicators that can be tailored to suit different users – for instance, more of a global view of sales for senior executives; or more number crunching detail on inventory for retail managers or business analysts.
Thanks to more open software, the new business intelligence module can be implemented in just a few days and the Yourcegid Retail Y2 suite can be implemented either as a cloud-based or on-premise solution. Furla, the Italian fashion brand, is one of the first to use the solution.
To learn more about Yourcegid Retail Y2, contact Shaun Britton at shaun@retailit.com or on 020 8605 9725.