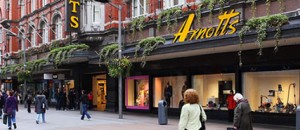 Northamptonshire based Bench Grade Brands have chosen the Retail IT Cloud to manage their retail & wholesale business.
Bench Grade Brands are a retailer, wholesaler and sales agent for footwear brands Paul Green and Bugatti.  They manage a concession at Arnotts in Dublin, with more concessions coming online soon, a shop in the north of England and a busy wholesale business.
They currently manage everything manually into an Access database and sage accounts system. This includes fetching files from a secure online location daily to get the information on sales from the concession and updating their database.
Bench Grade Brands wanted a system that could manage their purchasing, inventory management, customer information and wholesale needs. Then all of the information in the system required a flexible and powerful reports engine to provide them with what they need. Including the setting up of scheduled reports emailed out to the user.
Outside the core software Bench Grade Brands needed to be able to send files via a secure ftp location out of the system as well as receive and automatically import files from the same secure location.
The next key area was an integration into their accounts package, Sage Line 50. A major part of this is managing new and existing customers through software triggers. When a customer exists they wanted their account updated, if they don't exist then the system would create a new customer automatically and trigger the invoice workflow.
After reviewing the marketplace they selected Yourcegid Retail CBR via the Retail IT Cloud.

Why they chose the Retail IT Cloud
Bench Grade Brands had a strong desire to rationalise systems and deploy a real-time, cloud based software solution with push and pull to the ftp site for sales and item data, along with inventory management and wholesale workflows. Yourcegid Retail CBR provides everything they need and thanks to the Retail IT Cloud offering they can get it at an affordable price.
James Rodger, Managing Director of Retail IT is looking forward to the project, "Bench Grade Brands had some very specific requirements and a lot of areas where time can be saved in their business. The complex integration into Sage and the ftp file imports make full use of our in house development team. This will be an interesting project and I am looking forward to working with the Bench Grade Brands team on the deployment"