We have been working with Drake's for five years now and it's been a pleasure to see them grow substantially in this time. This partnership between Drake's and Retail IT has coincided with the opening of their factory shop in 2013, where we rolled out YourCegid Retail into this new store, and integrated their ecommerce site to streamline their sales process.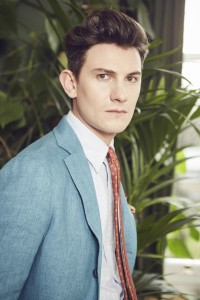 They've just released their Spring Summer 2016 collection which has caught the eye of the fashionistas in our office.  The collection draws on the sun-bleached colours and textures of 1950s menswear to create a range of garments that are both elegant and relaxed.
Ties, pocket squares and scarves draw on prints from the Drake's archives, presented alongside new designs in fresh and unexpected colour combinations. Linen features heavily throughout the shirting and tailoring, giving the garments a rich, authentic handle as well as great comfort and versatility.
For the campaign Drake's photographed Duncan Campbell, former editor of Acne Paper and co-founder of creative consultancy Campbell Rey. Duncan allowed Drake's to photograph him in his richly decorated Camden home, and perfectly captures the natural elegance of the collection. Drake's are also collaborating with Luke Edward Hall, on a series of artworks and pocket squares that will be available as part of the collection.
Drake's philosophy is to create beautiful products with commitment to an excellence in craftsmanship, quality and design. They have spent 35 years refining their craft, still today working with the same mills that they originally worked with at the company's inception in 1977. Drake's produce ties in their East London factory, and their shirts in the Somerset factory.
For more information on Drake's, visit www.drakes.com